Our co-founders built CodinGame with the objective of improving tech recruiting. Ideally, it should be:
Based on skills
Inclusive and fair
Regardless of origin or curriculum
In almost 10 years, the company, the team and the platforms have grown significantly, continuously delivering on that promise.
This year, CodinGame hits a new milestone in its history as we're joining forces with the leading technical interview platform for equitable hiring: CoderPad.
CoderPad, for Simple and Relevant Tech Interviews
Rings a bell? Perhaps you've tried their platform already, as an interviewer or as a candidate.
Today, almost every company is looking for developers. The competition is fierce. Finding the right talent quickly, and in a way that leaves a positive impression on candidates, is critical for companies.
CoderPad solves this problem. It's a powerful, online solution for live collaborative coding interviews. It provides a performant, browser-based environment where you can write, execute and debug code as part of a technical interview.
Their tool is simple and easy to use, yet extremely powerful. I could list all the features they have but trying it would likely be more efficient. Feel free to play with their sandbox. Also, here's a "pad" example with a Rust question.
What struck me when I met CoderPad people is how they put the emphasis on the candidate's experience. And it reflects on the candidates: CoderPad leaves them with a great impression. Why? Because it gives them more control over the interview process and lets them demonstrate their skills in a situation that is often felt as artificial and stressful.
The Multiple Facets of CodinGame
Until a few months ago, we were a team of 30 to work on the 4 main facets of the CodinGame adventure:
Helping companies to easily assess the coding skills of developers before hiring them, and at scale.
I told you about our flagship tool, CodinGame Assessment, a few years ago
Helping companies to retain their developers by providing a great, tech-friendly work environment.
You'll have the opportunity to get a taste of our new team-building solution, Coding Escape, during the upcoming Fall Challenge 2021.
Helping companies to find new talented candidates.
Yes, you can find a job through CodinGame, by building a solid developer profile and showcasing your skills.
Last but not the least, helping you, a community of passionate developers around the world, to improve your skills with fun puzzles and games, for free.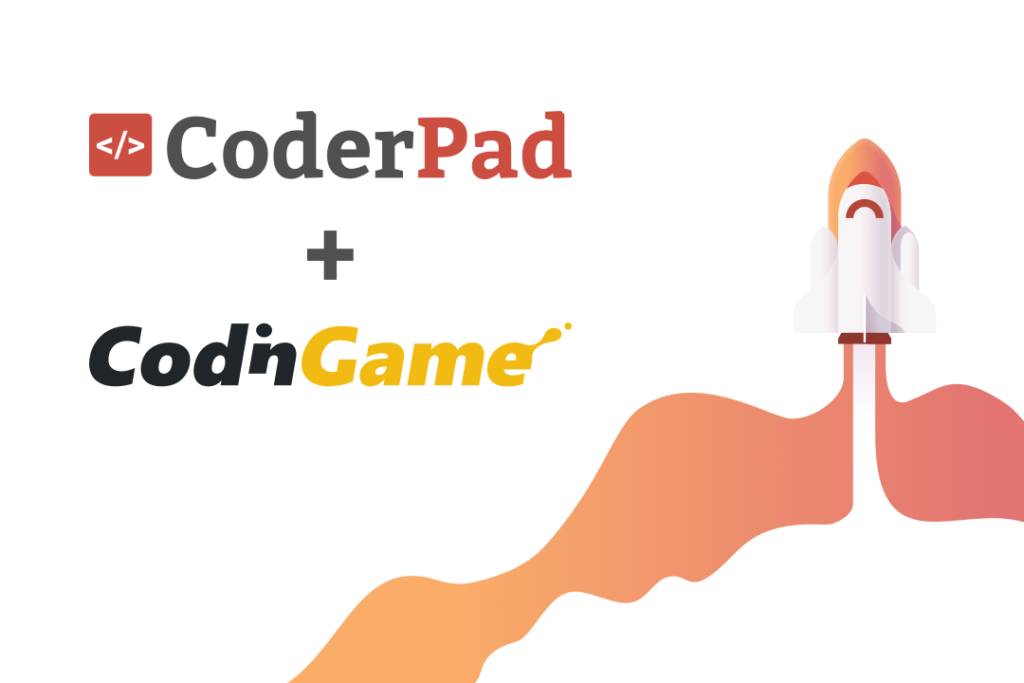 From a team of 30 to around 60 now, we're all very excited by this change.
First and foremost, it means that we'll be able to provide the best-in-market technical suite of tools to hire and retain developers, fast and at scale.
Also, we'll be able to offer new opportunities for both CodinGame and CoderPad customers.
Finally, this will let us have more latitude to improve our platforms and organize events.
What's Next for the Community?
Now, I'd like to reassure you that the CodinGame platform and community are not going anywhere. We're the same people, but with more friends who share our values.
That's how this huge operation between two major companies on the market happened. Because the two CEOs shared a common vision and the same values.
I can tell you that the CoderPad team loves the community and what we've built together. Also, CoderPad's users, the interviewers, are all tech people. It means that more people will be interested in practicing their coding skills on fun puzzles and games with a bunch of friendly peers. Let's welcome them!
---
You'll be able to meet a few "CoderPals" this very Friday at 2 PM UTC, since we'll be holding a joint stream on Twitch to play Clash of Code.
Join us if you can, it will be great to play together! We'll be happy to answer any questions you might have.
---
The CodinGame Fall Challenge is just around the corner, and will start on October 28. This time, it's a bit different as you'll all be playing a Coding Escape mission as teams of coders and non-coders. If not already done, join the event and gather your crew.