In some regions, being a woman developer is not only an exception, it is also an incredible source of empowerment.
Empowerment means acquiring a better sense of self-worth, the ability to determine one's own choices, the right to gain autonomy, and the possibility to have an impact on society.
Female empowerment can be considered a fundamental human right, and has to be defended, especially in regions where women's rights are not always respected.
Ambareen Azam lives in Kolkata, India. Today, this courageous young woman tells us how choosing to become a developer despite the obstacles has changed her life's path.
On the occasion of Women's History Month, this article is the second one of a series of interviews which highlights the exemplary career paths of women developers in our community. Check out the other articles:

Hi Ambareen, can you introduce yourself?
My name is Ambareen Azam and I come from a background where the female education ratio is extremely low.
My first experience with coding was in my school days. I loved how real-world logic can be coded to perform magical tasks. Since then, I knew I wanted to be a developer.
 What type of education/training did you have?
I am a pre-final undergraduate student majoring in Computer Science and Engineering.
Where did you learn to code?
We had a computer science class in school. This introduced me to coding and motivated me to pursue Computer Science and Engineering courses in college.
How did you land your first job?
I got a chance to intern for a very early-stage start-up. I was able to help them build their projects for clients. 
Obtaining this first experience as a developer was not a piece of cake! After a lot of failed interviews, I knew that I had to be bold: I landed my internship by directly contacting the team and sending them my resume by email.
I went through the entire recruiting process, and was so happy when they had accepted my application! After completing two months of the internship, I have now returned to my college studies to focus on completing my curriculum.
How did you find the recruiting experience?
I was required to take a technical coding assessment. I knew it was going to be extremely difficult. The hands-on tests are very different from what is taught at university. In addition, since I received little support from classmates, I had to prepare myself without any help.
Personally speaking, recruiters can be reluctant to train interns. Once on the job it's expected for interns to possess all of the required skills. I believe basic training should be provided to help ease the transition, regardless of previous experience!
As young students, an internship opportunity is our only chance to become visible in the tech industry. Therefore, I really appreciated the benevolent and honest feedback I got during the interviews.
What do you particularly love about being a developer?
I really like the ability to think and create anything through coding.
What is it like to be a woman in the tech sector today?
Where I live [Kolkata – editor's note], it's genuinely rare to find women working in the tech sector, especially from a similar background as mine. The concept of female developers is so uncommon, it's extremely difficult for a woman to express concerns to male colleagues.
It's disheartening how sometimes women's opinions are not taken seriously. In addition, it's not unusual for women to be considered less intelligent than men. Even in terms of professional opportunities, women face an abundance of obstacles, therefore it takes a lot of effort and motivation to keep pursuing our dreams.
Why do you personally think there are so few female developers?
In Kolkata where I live, women are confined to the home since childhood. In order to keep women "safe" and not be exposed to new concepts, they're not allowed to stay out late, make friends, or discuss ideas. It contributes to our lack of confidence when in the presence of new people.
Men have an overall advantage since they have the privilege to make decisions, to make mistakes, they're even allowed to stay out late.
Over time, women become intimidated by the thought of expressing their opinions. They lose hope and only a few manage to break through this shell.
What could the tech sector be doing better to encourage more women to pursue a career as a developer?
In my country and elsewhere, mentoring should be provided specifically for women, regardless of their performance. If a woman is underperforming, it is usually due to a lack of career guidance and social stigma. Mentoring would give them a safe and healthy competitive space to empower them to live the life they desire.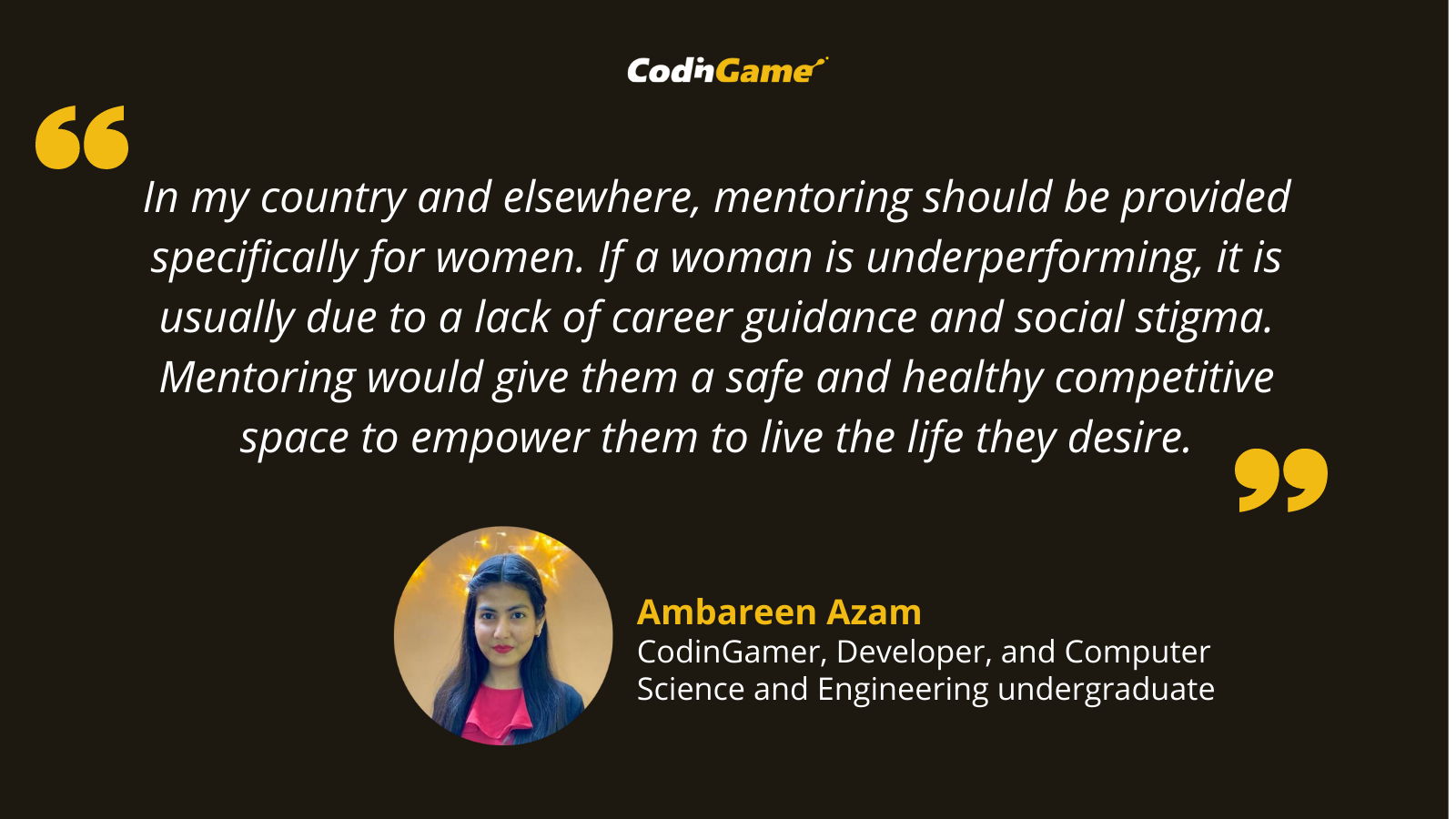 ‣ ‣ ‣ ‣ ‣ ‣ ‣ ‣ ‣ ‣ ‣ ‣
Thank you so much Ambareen for this touching testimony. It sheds light on the reality of women's working conditions in countries where women's rights are restricted.
It took courage, ambition and strength to achieve your goal of becoming a developer in these conditions. We can only admire your journey.
We wish you all the best in your career as a developer and have no doubt that it will be crowned with success!
‣ ‣ ‣ ‣ ‣ ‣ ‣ ‣ ‣ ‣ ‣ ‣
Are you a company bold enough to hire more female developers? You're welcome! Check out our tech hiring platform CodinGame for Work to source, screen, and hire talented developers who have diverse and amazing backgrounds.