Exercice 5
Réaliser le motif ci-dessous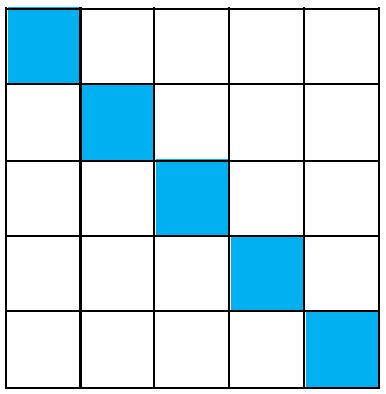 Vous avez pu constater qu'une série de commandes se répétaient systématiquement pour construire le motif de l'exercice 5. Vous venez de découvrir le repeat. Essayez de construire le même motif en utilisant le repeat.
Questions
Répondre aux questions
Avec le repeat, combien de fois écrivez-vous explicitement « moveDown() » ?
Si le diagonale à construire ne faisait plus 5 cases mais 50 (dans un paper de 50 x 50). Serait-il simple d'adapter votre solution ? Faites-le ?
Create your playground on Tech.io
This playground was created on Tech.io, our hands-on, knowledge-sharing platform for developers.
Go to tech.io
Join the CodinGame community on Discord to chat about puzzle contributions, challenges, streams, blog articles - all that good stuff!
JOIN US ON DISCORD