Today, I'm going to tell you a bit more about Unleash The Geek, the upcoming CodinGame contest sponsored by Amadeus.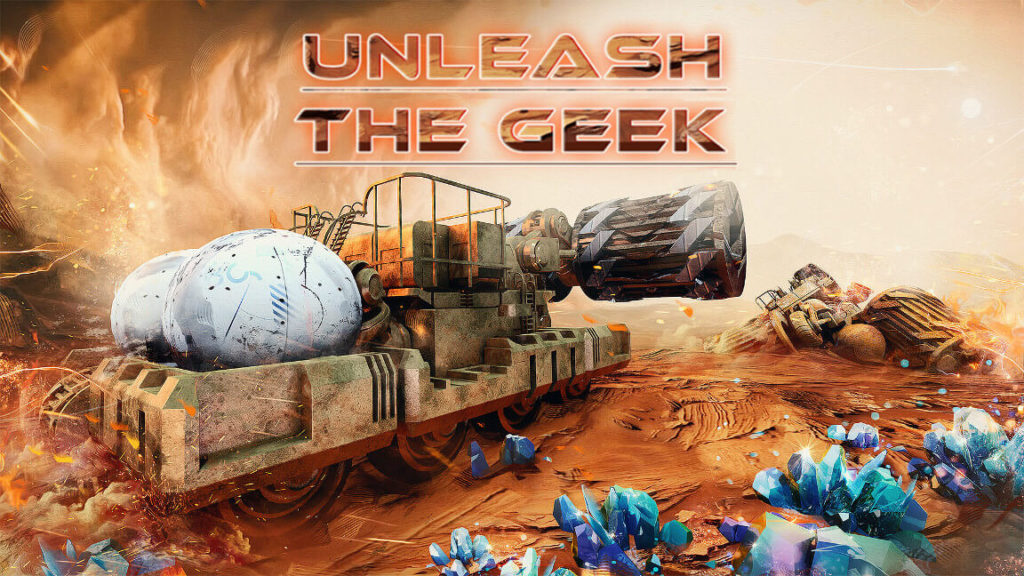 The subject has been on everyone's lips (or keyboards) lately. I'm pretty sure you have plenty of questions about this first-of-its-kind event.
So let's dive in.
Why Amadeus?
This year's Unleash The Geek event celebrates a long and successful partnership between CodinGame and Amadeus.
This September, for the 5th year in a row, we created a custom game and organized a two-day challenge for almost 500 people from Amadeus' tech teams across the world (over 20 sites).
Over the years, Unleash The Geek has become a can't-miss event. For us, it represents a major project and months of hard work with the Amadeus team. They've helped us from day one, providing design ideas, testing the game as well as providing valuable feedback.
They've surely showed enthusiasm:
"We could have sand worms to be lured with huge hammers, sand storms that would fill up the holes again, and we could call extraction drones on tiles and…"
The Amadeus team
It was a long and fun collaboration.
How Did the Private Event Unfold?
Unleash the Geek c'est reparti pour la 5ème édition ! 👌
Notre #hackathon interne commence aujourd'hui et c'est pendant 2 jours !
Alors, à vos marques, prêts, codez ! 😉 #LifeAtAmadeusNice #Dev #Code pic.twitter.com/quBoRwT2v3

— Amadeus Nice (@AmadeusNice) September 26, 2019
Translation: "Unleash The Geek, 5th edition, here we go! 👌
Our internal #hackathon starts today for 2 days!
Ready, steady, code! 😉 #LifeAtAmadeusNice #Dev #Code"
Instead of working on their day-to-day projects last Thursday, hundreds of Amadeus employees — software developers mostly, but also QA engineers, product analysts as well as team leaders and product managers — gathered in meeting rooms with their laptops to compete against each other, as teams of 3 players.
Since the players were located in different countries with different time zones, they didn't start the challenge at the same time but worked on the game for the same amount of time that day. The day after, on Friday 27th, they all logged in at the same time for a final rush of 3 hours. As you can guess, while some players had just woken up, others were already preparing for the weekend! All players fought until the end with passion and dedication.
Just after the final rush, employees from the main R&D site (near Nice in France) gathered in a large amphitheater to hear a few speeches from the organization team, which were broadcasted to all other sites participating in the challenge.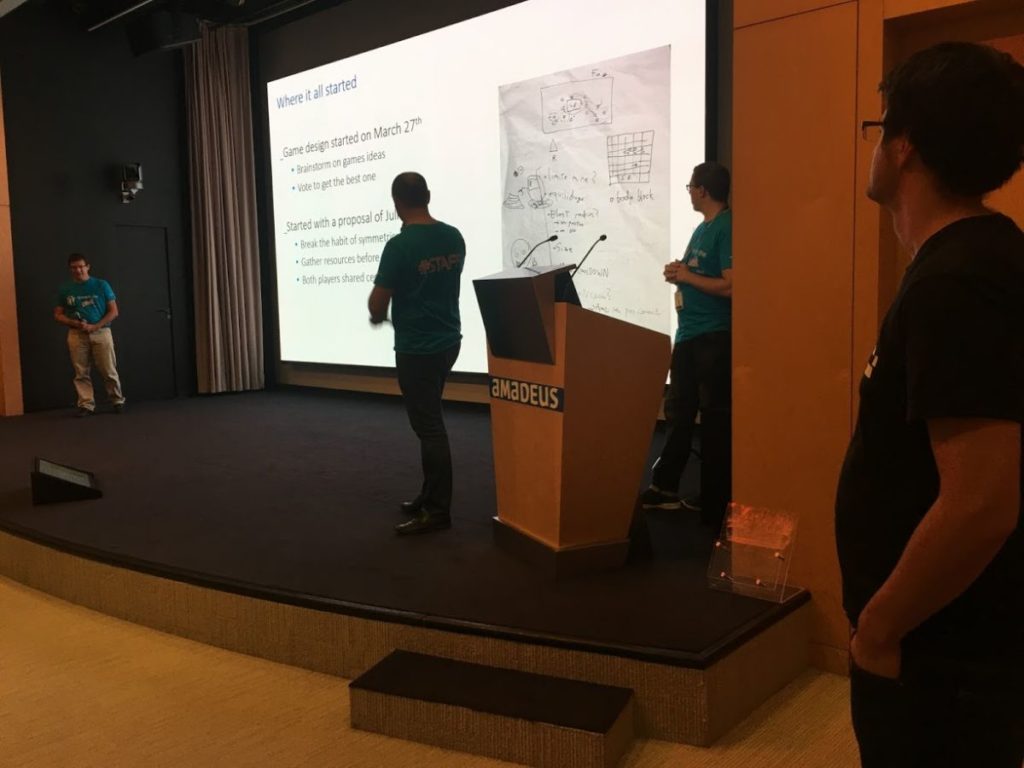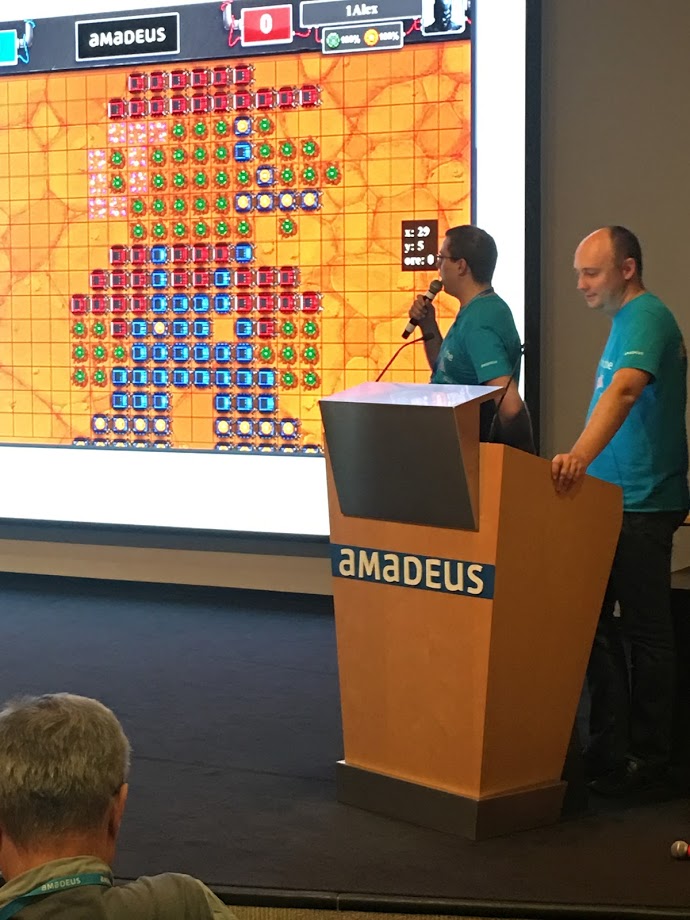 Meanwhile, over on the CodinGame platform, the players' last-minute submissions were battling it out, and a final ranking, hidden from the players, was emerging. Finally, the winning teams were revealed – as well as a big surprise for the participants. More on that below…
Wait, Is the Challenge Already Over?
The Unleash The Geek two-day challenge, internal to Amadeus, is indeed over. However, the Unleash The Geek public challenge starts this Friday, October 4, for 10 days of intense competition – and the whole CodinGame community is invited to take part!
The main feedback we get from Amadeus players about this recurring team-building event is the following: they want to continue coding and improving their AIs. Two days isn't enough! Moreover, every year, a lot of Amadeus employees aren't able to take part in the challenge, because the number of participants is limited.
That's why, this year, Amadeus have chosen to open up the challenge and make it a global public event. So that everyone can take part in this beautiful and fun experience.
Why So Mysterious?
True, for months, the contest showed as a Mystery Sponsored Challenge. Well, Amadeus wanted to announce the good news to their players at the end of this year's private event. That's why we had to keep the sponsor secret until last week.
Julien's on-stage announcement that the game would come back as a public contest was met with players standing up to applaud and cheer.
What's more, Amadeus is offering 5,000€ in Amazon vouchers* to the winners of the public contest!
*Amadeus employees can participate in the public contest but, for the sake of equality, are not eligible for these prizes.
Did Amadeus' Employees Enjoy The Event?
Imagine that instead of spending your day working, as usual, you could compete on CodinGame with your colleagues. Sounds like a dream, right? 🙂
Some players were kind enough to give us two minutes of their precious time during the competition for a quick interview:
"I really enjoy competing with colleagues, especially with all the different sites participating."
Maxime (QA engineer)
No doubt they rarely participate in projects including people from Boston, Bangalore, and Sidney at the same time!
"I've participated in every UTG challenge. Our challenge today is to see what we can optimize to access the Gold league*!"
another Maxime (software engineer)
"It's not that easy when you're not used to this kind of problem, but it's a good exercise!"
Leila (software engineer)
"It's fun! Complexity increases year after year, but that's not necessarily a bad thing. So far, so good."
Vivien (QA manager)
Thank you all for the good vibes.
*Gold was the highest league for this challenge. Only a few teams managed to reach it on the first day of the competition.
Why Did CodinGame Leak the Rules?
I know we don't usually leak any information about any of our games before they start. But, here, the context was a bit different. There was an entire week during which anyone could find information if they really wanted to.
The Amadeus project team and ourselves anticipated the possibility of leaks. It turned out that some replays of the game were found during the private event itself and shared on the chat. It pushed us to act upon our plan and reveal a game replay. Since then, we've also published the starter AIs that the project team had prepared for the internal event.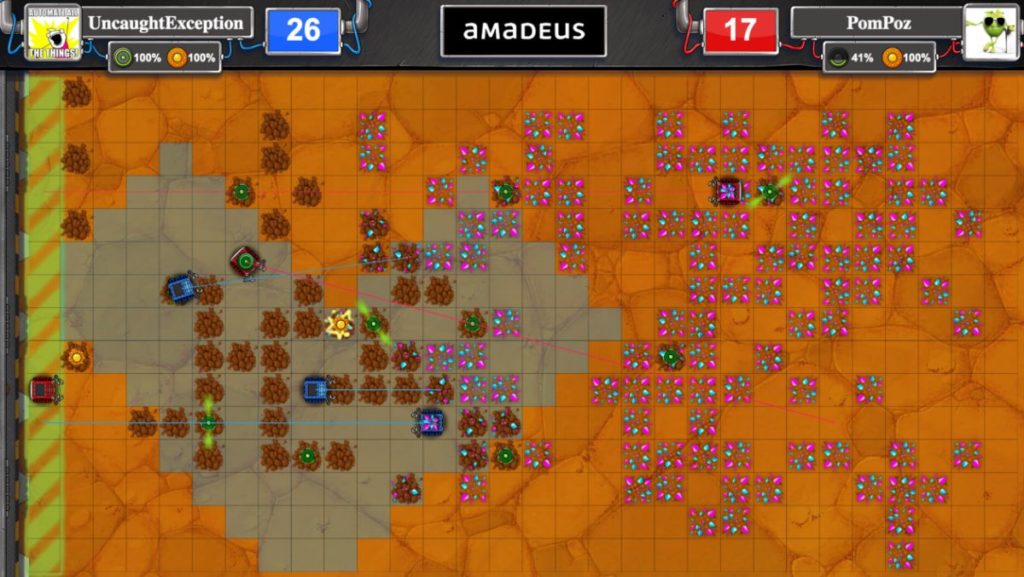 Yes, this is a bit unusual as some players will have already started coding, guessing the rules from the replays. We'll just have to wait and see if they can go the distance…
We've decided to ensure that all players have access to the same kind of information and get a real sneak peek of the event. This could (hopefully) make more players want to give it a go. The more, the merrier.
What Can be Expected From The Competition?
The UTG game was built to fit a two-day event. It's now a 10-day competition with a lot more players – we've mixed it up, but we're confident!
As usual, we've focused on making a game that's fun to play. And it is!
Some regular players have already announced they will do a bit of streaming to share some tips and strategies with the community. Don't miss them, check out the schedule!
Personally, I love the assets. Also, I prefer grid-based games so I think I'll enjoy coding an AI for this game. You can expect to see me compete with you in the following days! See you there 🙂
---