From February 12 to 17, we have held a special Artificial Intelligence Coding contest San Francisco 2442 at DeveloperWeek in partnership with Holberton School, CoderDojo, Box, and Coding School.
Some of you came crossed all of the United States to meet us at our booth and play with us! Here is a short resume of a crazy week.
A Week for Developers?
DeveloperWeek is San Francisco's largest Tech event with more than 3,000 tech professionals participating. Great tech speakers such as Kevin Scott from LinkedIn or Kit Colbert from VMware were present.
We decided to become official sponsors of the DeveloperWeek to raise awareness about the topic of Artificial Intelligence and promote alternative ways to learn about it.
"At CodinGame, we truly believe that AI programming is a complex but incredibly exciting topic and we want to help developers discover and get into AI programming the fun way.

We do not pretend to be a gaming platform, but through games, we transform the way programmers learn and practice their coding skills. People are more keen to learn and memorize new concepts if they enjoy doing it."
Frédéric Desmoulins (our CEO)
Our partners actually share the same value of learning.
Holberton School
Holberton School is a project-based alternative to college programming school, launched in San Francisco by Sylvain Kalache and Julien Barbier.
Their goal is to spread a new kind of education, based on real-life projects and peer learning. By focusing on more interactive workshops, teamwork and problem solving, students are better prepared for professional life than by following a classical academic program focused on learning specific programming languages or tools.
Gregory Renard, Co-Founder & CTO at XBrain and Deep Learning Faculty at Holberton School says
"Gaming is a very good way to help people learn and solve problems with AI technologies. It's why I deeply recommend any developer looking to start a new skill or a new carrier to play and learn with CodinGame."
CoderDojo
CoderDojo is a global movement of free, volunteer-led, community-based programming clubs for young people.
At a Dojo, young people, between 7 and 17, learn how to code, develop websites, apps, programs, games and explore technology in an informal and creative environment. In addition to learning to code, attendees meet like-minded people and are exposed to the possibilities of technology.
The CoderDojo Foundation recently relaunched Zen as a new open source community platform.
Coding School
Coding School improves creativity and experiments new educational methods, using a program that goes through the whole educative chain. It is a social cooperative with collective interest which promotes social rehabilitation and intergenerational bond.
By offering living labs, animations, and training, Coding School aims to empower people from any age. On the other hand, they work on the creation of centers in partnership with tech companies that would be open to people from any background, intended to give them the right skills to professionally develop themselves.
Box
Box is at the forefront of disrupting how the world does business, by providing innovative content management services, both at the surface and platform level.
Box is also committed to working with an ecosystem of partners to provide innovative technology solutions that modernize the classroom experience. Education platform partners include leading learning management systems (LMS) and education applications like Canvas by Instructure, Celly, and Fluid Notes.
The San Francisco 2442 Coding Contest
The room was huge on the 1st floor of Pier 27, in San Francisco. Immense windows overlooked the Bay waters, bathed in the sun, with Bay Bridge standing tall and majestic in the background…
All was set for hosting a very special coding competition. Wow!
A Great Community Event
Booths from worldwide companies were installed. Goodies were spread all over the tables. Tech workshops were given and soon thousands of visitors came wandering around to chat with exhibitors.
For the 3 days of the conference, the game was running, and developers eagerly coded AIs for San Francisco 2442.
We loved that game. It is one of our favorite CodinGame bot programming games so far. 780 players gave it a try, among which 80% from the US. You could take part online or on-site, but live presence was required to claim the contest prizes.
The month before, we had been sending DevWeek Open Passes to participants who wanted to attend the event. Brandon came from Boston, a team of 3 friends came all the way from Montréal, Canada, and some of you joined from the 4 corners of California.
Thank you guys, really.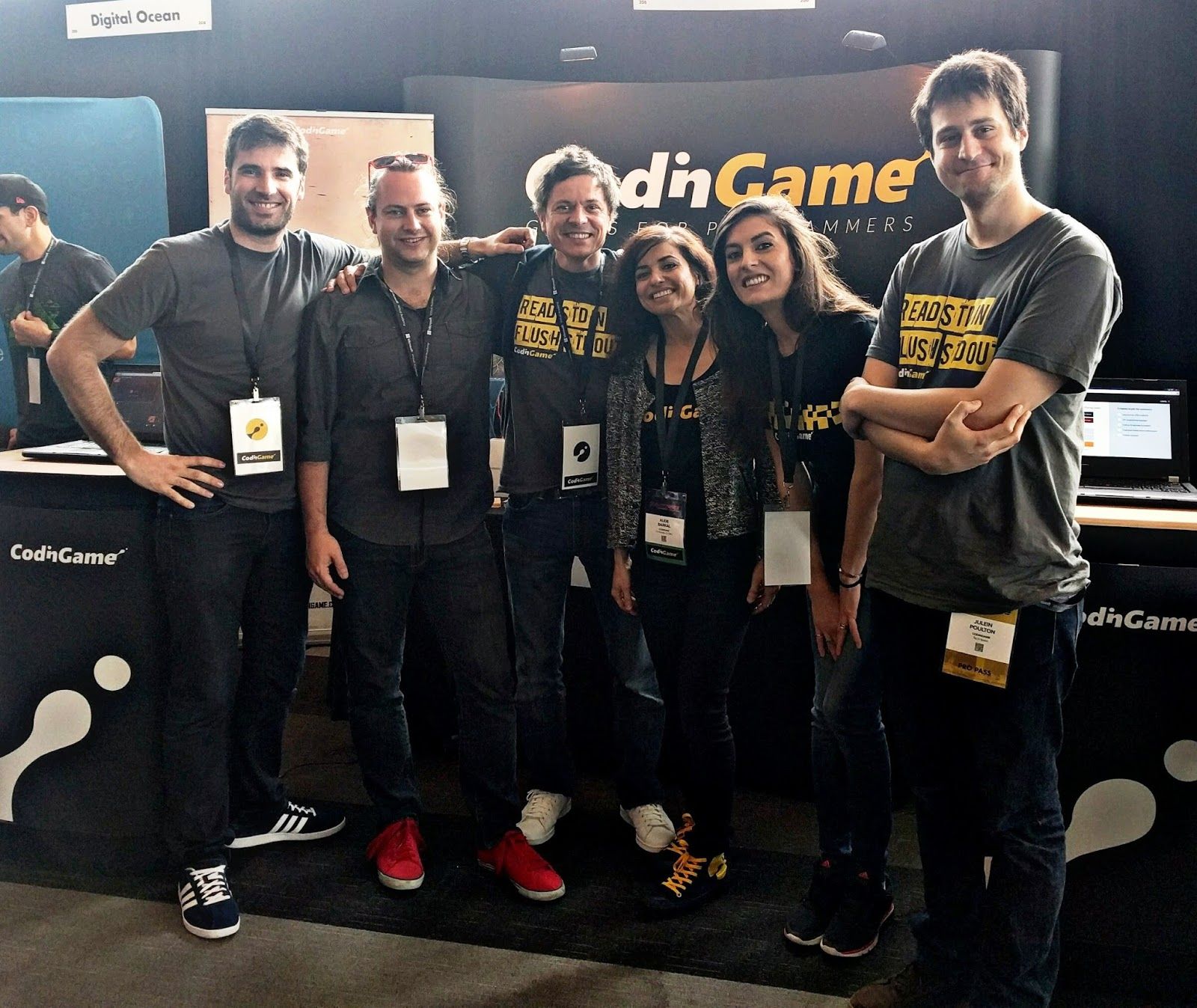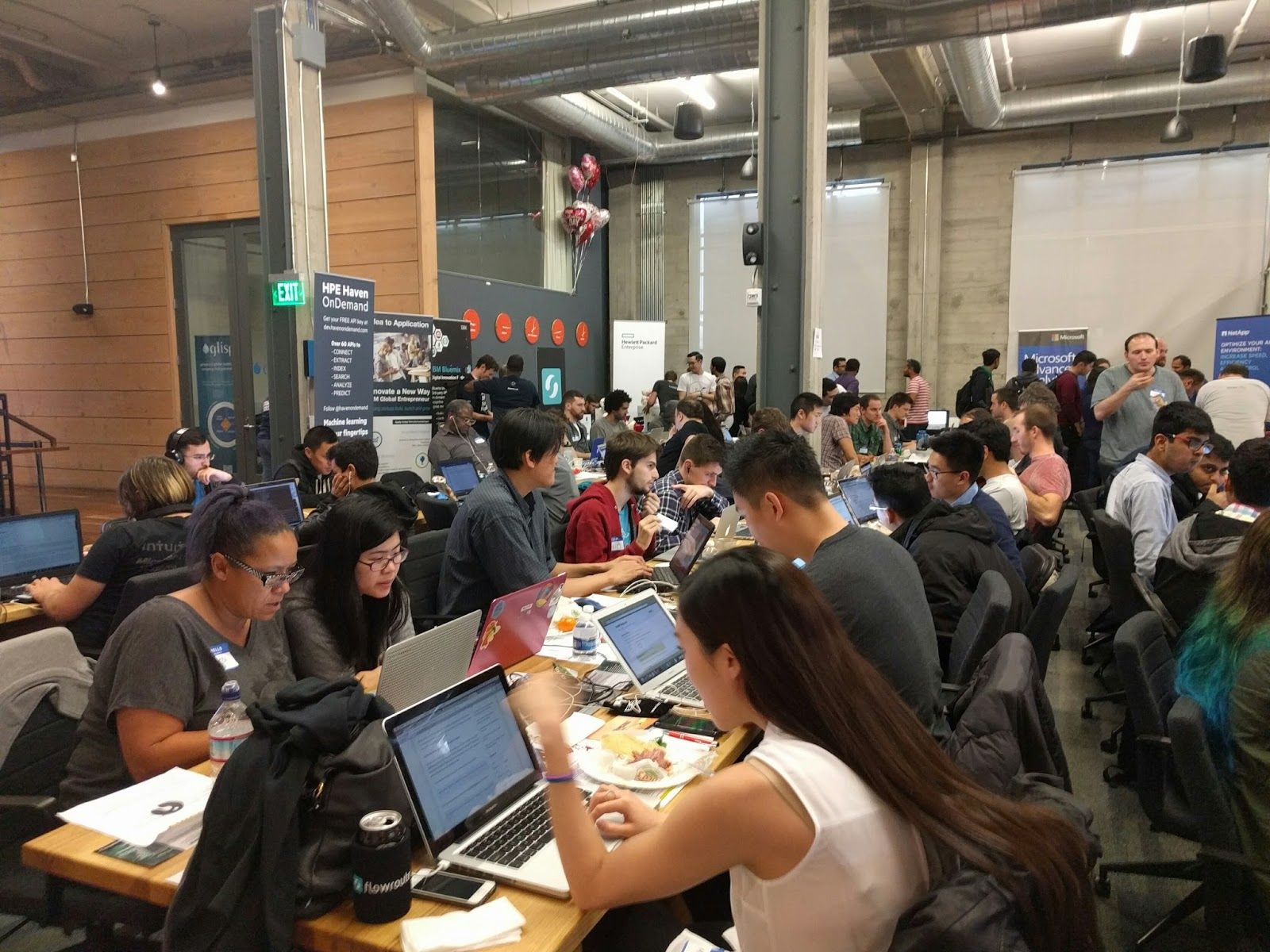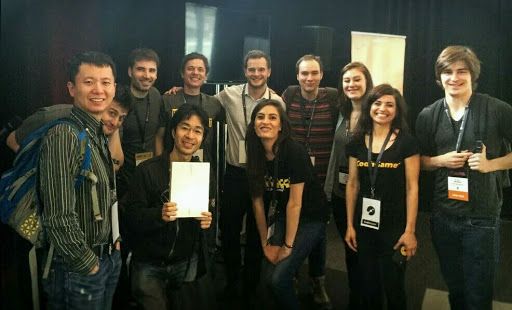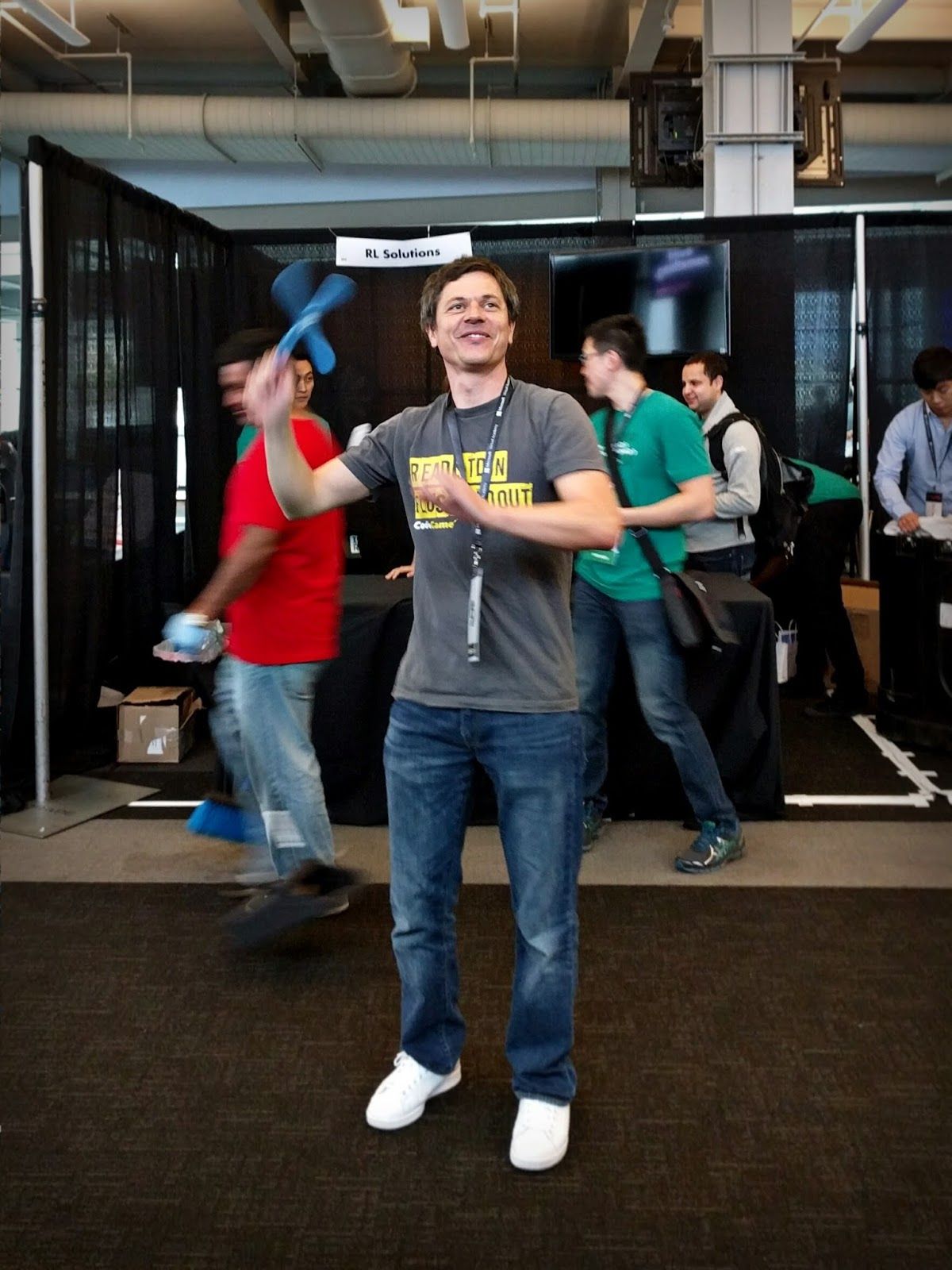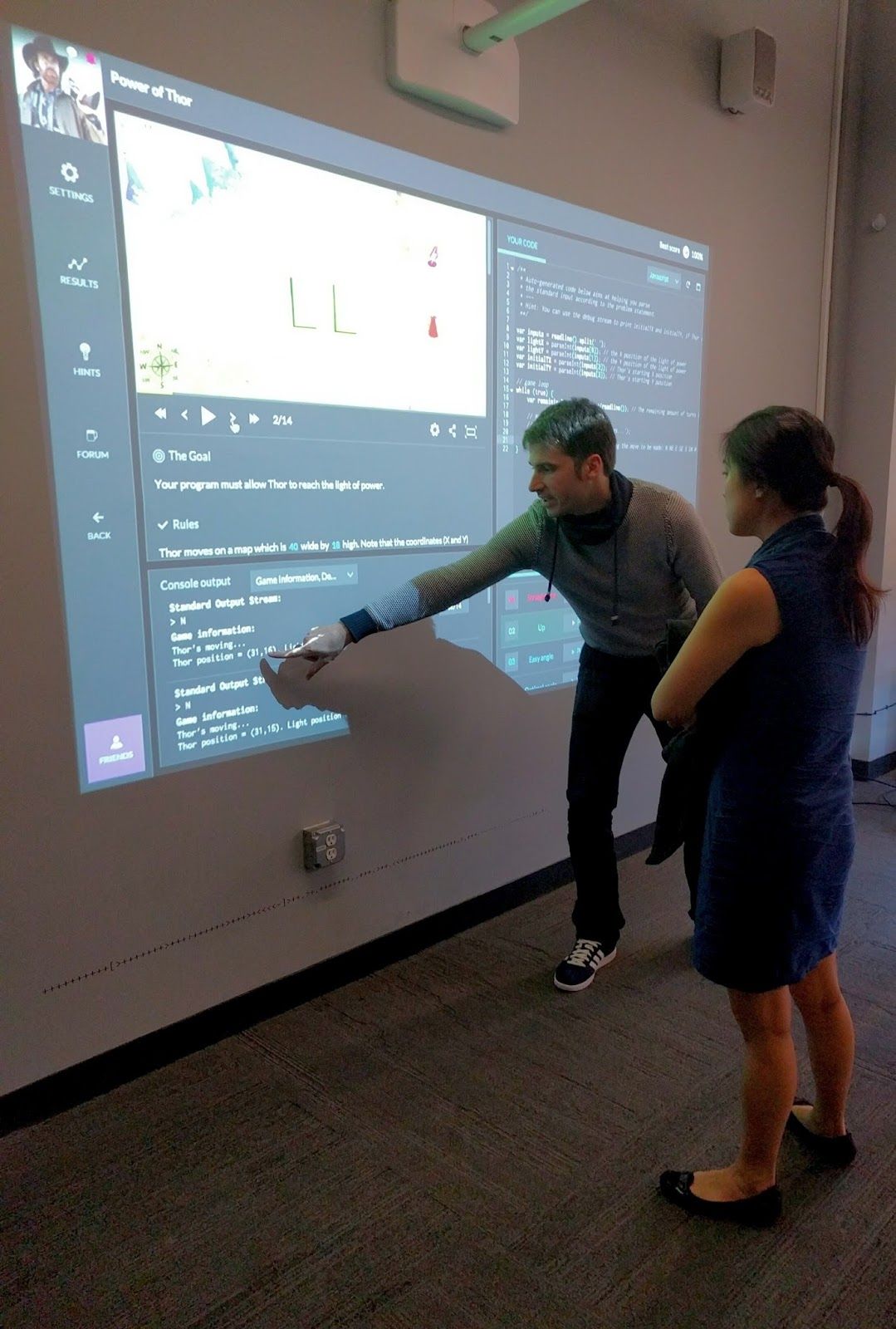 The Competition Results
Warm congrats and thanks, too, to the 3 winners Vitaly (C++, US), Magicien (Swift, Japan/US) and Elliot (C++, France)  who were present at the awards ceremony at Expo Stage on February 17th.
Vitaly is a software engineer at Google, CA. He confessed that he became obsessed by the San Francisco 2442 competition straight away:
"As soon as I discovered the contest, I started thinking about it and could not stop until the end."
As far as his strategy was concerned, he explained that he did not choose the best option right from the start:
"My strategy was initially to find optimal paths. This approach obviously required to anticipate collisions using physics and mathematics, but I failed at taking them properly into account. All the improvements I did in this sense put me down, so I had to disable them all to get to a simple solution, which was slower."
Indeed, Vitaly spent the whole last day of the contest trying to improve his AI. What delighted us was his enthusiasm about the platform:
"CodinGame is awesome! I tried and I found it really convenient. But the competition side is really impressive. I was very surprised by how addictive the contests were."
"I'm very interested in CodinGame because I love games, and coding. I use it a lot to improve my programming skills"
Magicien
"I've been coding on CodinGame for more than a year now. It's a great place to learn programming, new algorithms and stuff. The SF2442 competition was quite fun, although it relied on a lot on physics, which I'm not so good at. Anyway, I had a real good time."
Elliot
---
We also wanted to thank our partners on the event: CoderDojo, CodingSchool, Box.com and especially Holberton School. The latter gave us the chance to run a workshop in front of a class of 30 highly motivated students a few days before. Dora was one of them. She came on stage at DevWeek to tell us what it's like to become a full stack developer.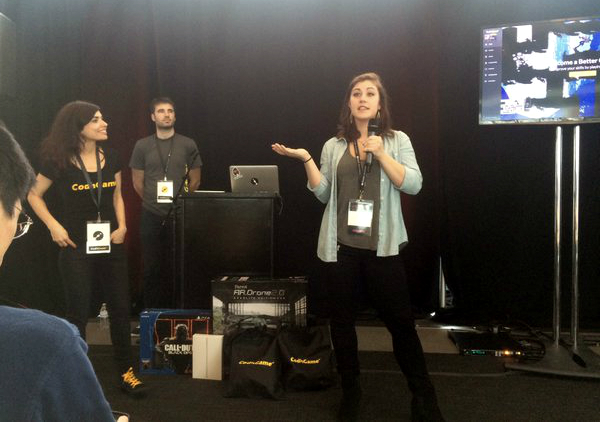 "We are a project-based school. We don't take lecture courses, we work on hands-on projects every week. It allows us to see what the scope of the tech industry is about"