Tutorial Unity3D e Fungus: PickUps

Controllare la Logica del PickUp
Andremo ora ad implementare il sistema che permetterà al coin di essere raccolto dal nostro personaggio. Per fare questo, utilizzeremo un Flowchart di Fungus, che però sarà inserito all'interno del nostro PickUpCoin.
Aggiungere un Flowchart
Selezioniamo il GameObject PickUpCoin, clicchiamo su Add Component e selezioniamo Scripts > Fungus > Flowchart: clicchiamo poi su Open Flowchart Window per visualizzare il Flowchart in questione.
Aggiungere il Blocco 'Trigger Enter'
Creiamo ora un blocco di comandi, tramite il pulsante + nella finestra del Flowchart e rinominiamolo TriggerEnter.
Il blocco deve attivarsi all'evento MonoBehaviour > Trigger (FireOn > Enter), cioè quando un elemento in scena entra nel Trigger del GameObject.
Imponiamo al TagFilter il valore 1 e, nell'Element 0 inseriamo "Player" (attenzione alla maiuscola!), in modo che solamente il Controller (che abbiamo taggato nella lezione precedente come "Player") attivi il trigger.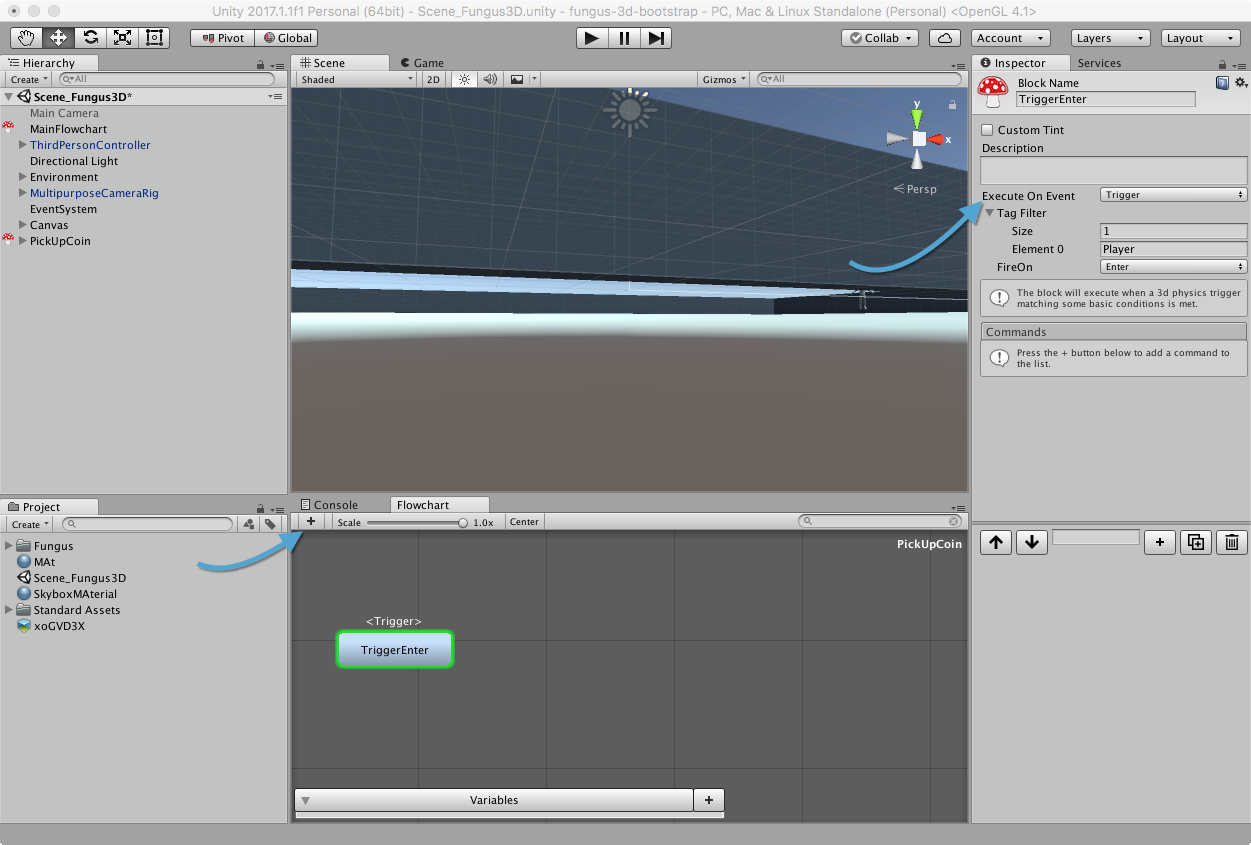 Aggiungere i Comandi
Siamo ora pronti ad inserire i comandi nel nostro blocco.
Aggiungere un Audio Usfxr
Per prima cosa aggiungiamo il comando Audio > Play Usfxr Sound. Nel campo Settings String inseriamo il seguente valore:
0,.5,,.0289,.4065,.4227,.3,.4748,,,,,,,,,.5,.5848,,,,,,,,1,,,,,,
E' possibile creare il proprio effetto sonoro tramite l'editor di effetti di Fungus, selezionando Fungus > Utilities > Generate usfxr Sound Effects (per maggiori informazioni, consultare la pagina del progetto).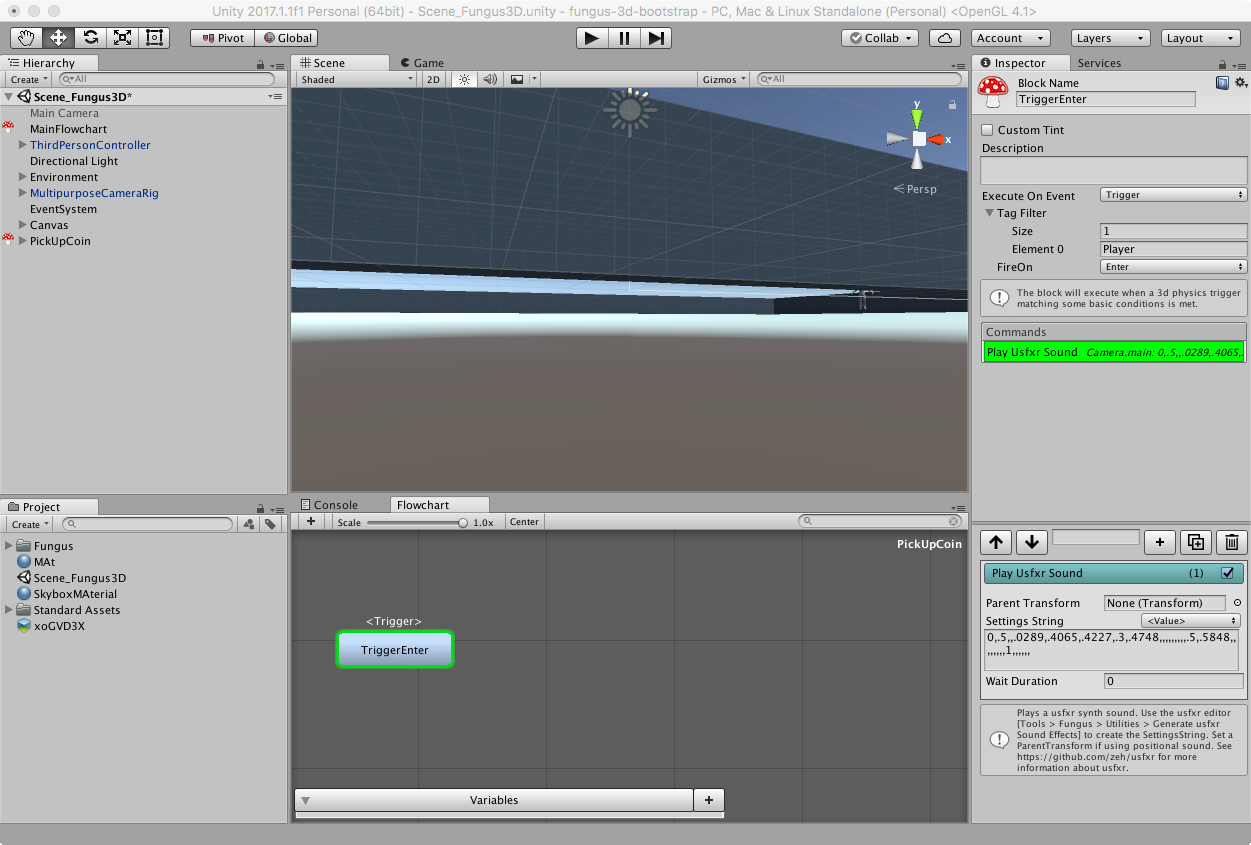 Rimuovere il PickUp
Subito dopo l'effetto audio, aggiungiamo il comando Scripting > Destroy e trasciniamo il gameobject PickUpCoin dalla scena nel campo Target Game Object.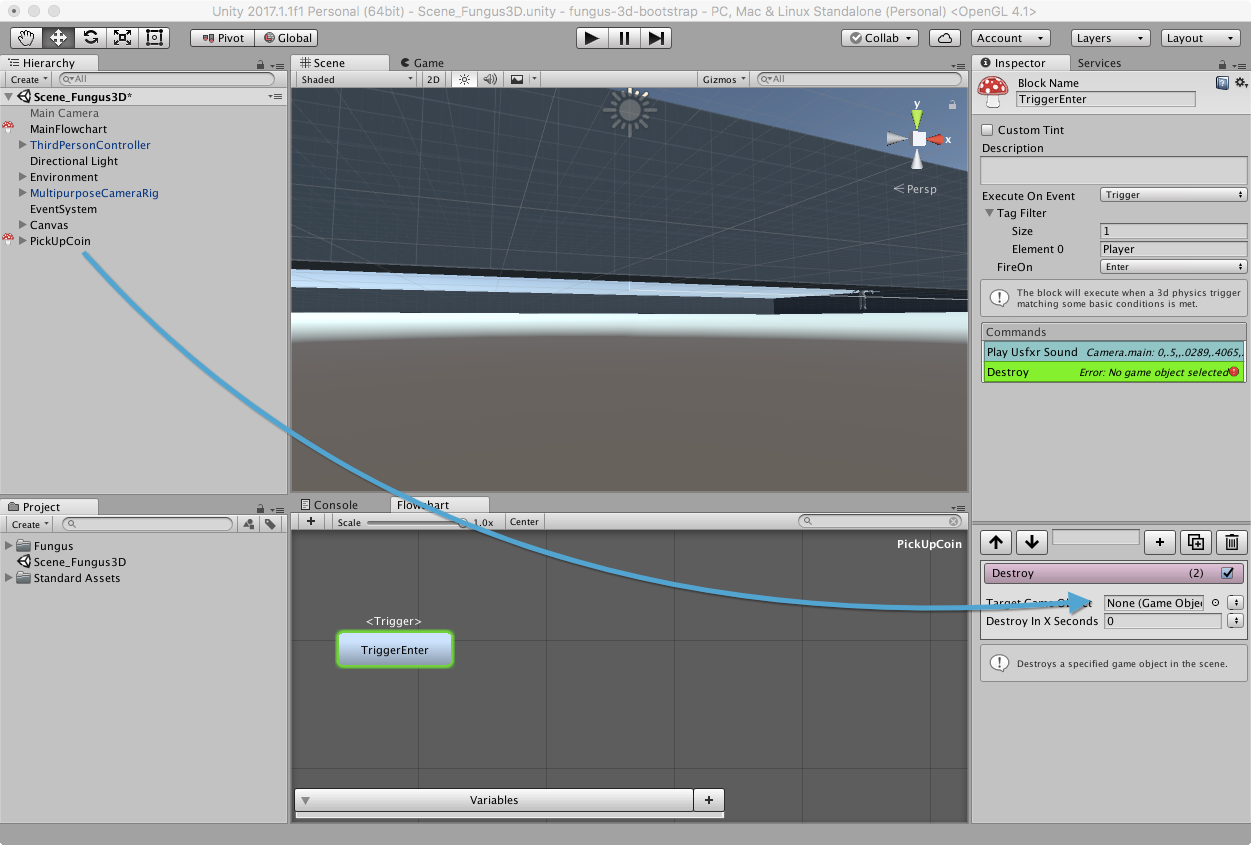 Se lanciamo la scena e muoviamo il nostro personaggio sulla moneta, dovremmo udire il suono generato e la successiva distruzione della moneta dalla scena.
Siamo ora pronti a creare un prefab dal nostro pickup.
Create your playground on Tech.io
This playground was created on Tech.io, our hands-on, knowledge-sharing platform for developers.
Go to tech.io
Join the CodinGame community on Discord to chat about puzzle contributions, challenges, streams, blog articles - all that good stuff!
JOIN US ON DISCORD