Tutorial Unity3D e Fungus: PickUps
Aggiungere un Flowchart
Andremo ora ad aggiungere un Flowchart di Fungus, che andremo ad utilizzare nelle lezioni successive, assieme ad un campo di testo che utilizzeremo per visualizzare una serie di messaggi.
Creazione di un Flowchart
Dal menu Tools > Fungus > Create selezionare Flowchart, che aggiungerà un Flowchart in scena. Selezioniamolo nella Hierarchy e clicchiamo sul pulsante Open Flowchart Window: verrà aperto il pannello corrispondente.
Rinominiamo l'oggetto come MainFlowchart dall'Inspector.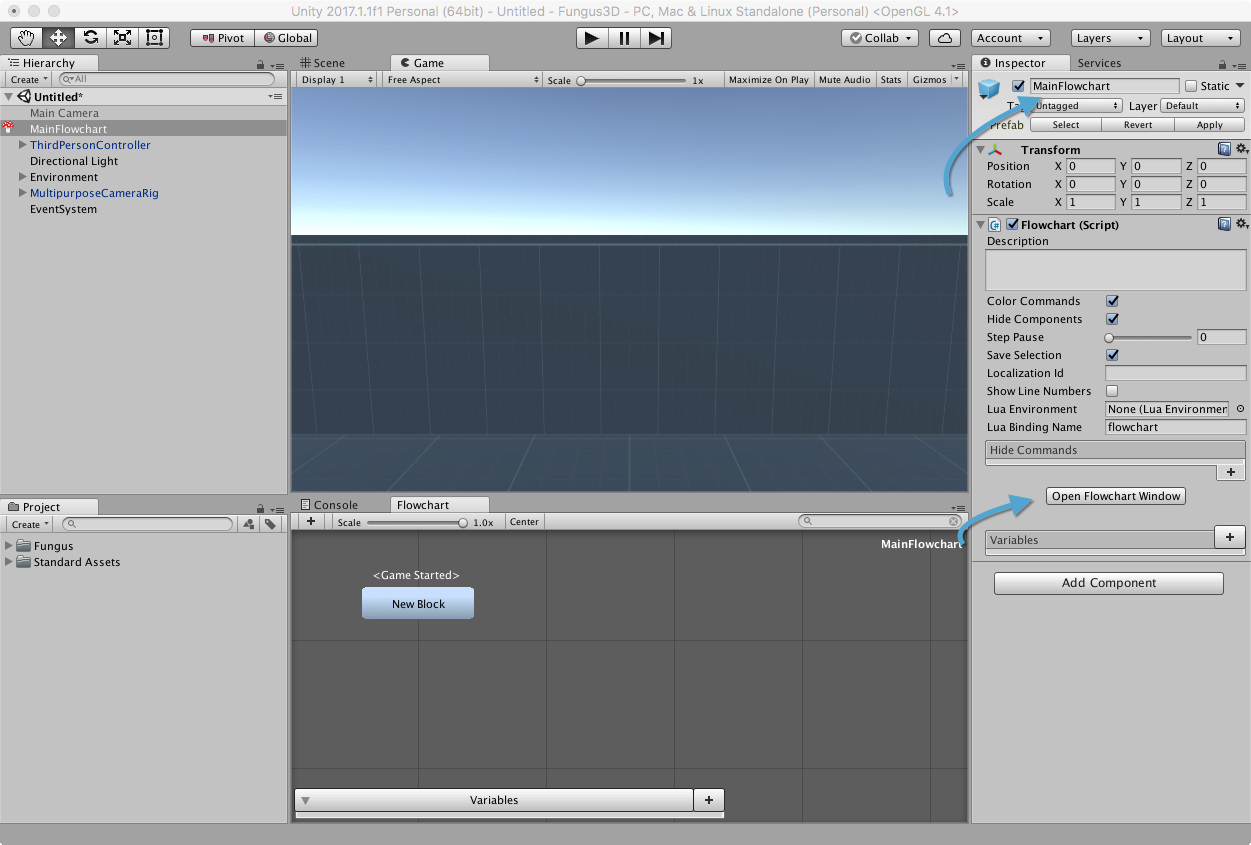 Rinominare il Blocco 'Start'
Selezioniamo, all'interno del Flowchart, il blocco (l'unico, al momento) NewBlock e, dall'Inspector rinominiamolo Start.
Creazione di un Campo di Testo
Dal menu GameObject > UI selezionare Text, che genererà un campo di testo nella scena. Selezionatelo e modificatelo secondo i vostri gusti dal pannello dell'Inspector. Il mio ha l'aspetto nella figura riportata in seguito.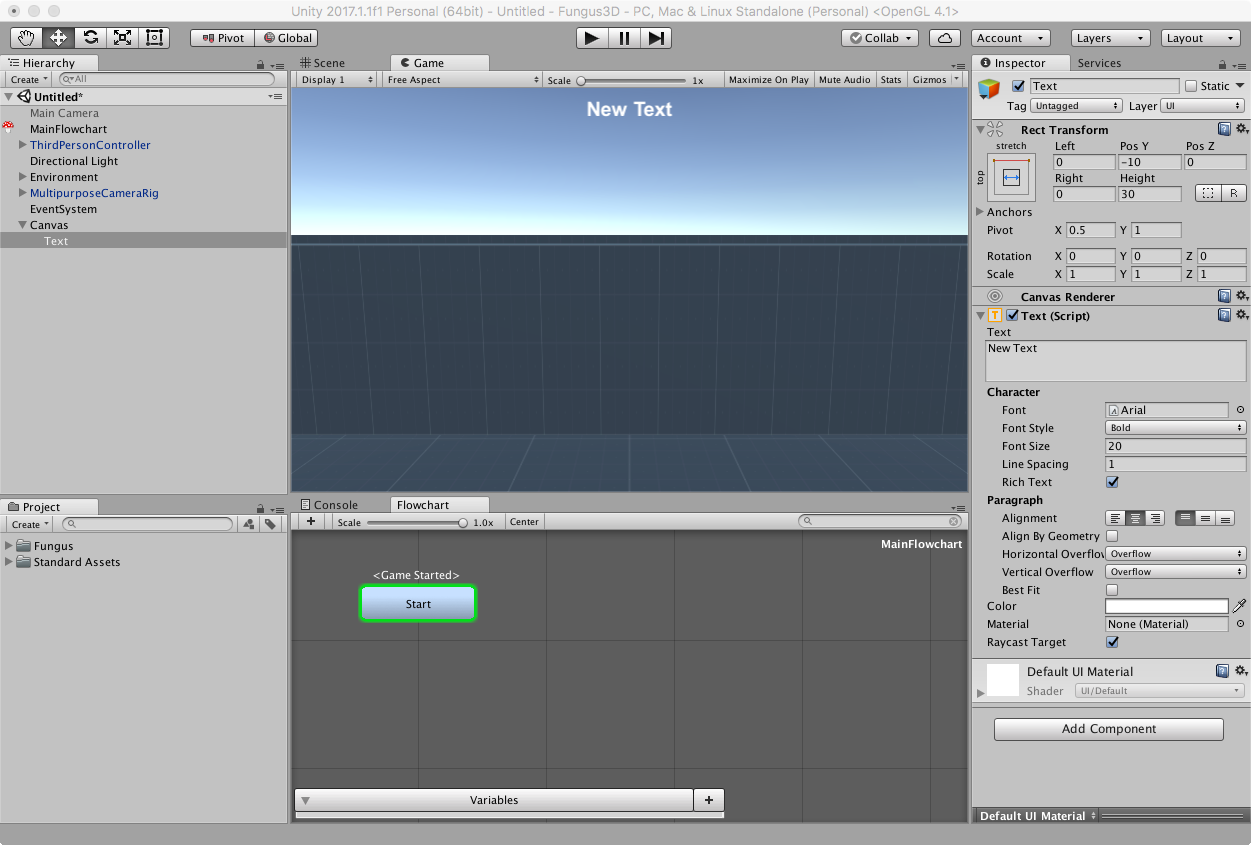 Scrivere un messaggio di Benvenuto
Andremo ora ad aggiungere un messaggio di benvenuto al testo, per sincerarci che tutto funzioni correttamente. Selezioniamo il blocco Start all'interno del nostro Flowchart e, tramite il pulsante + nell'Inspector aggiungiano il comando UI > Set Text.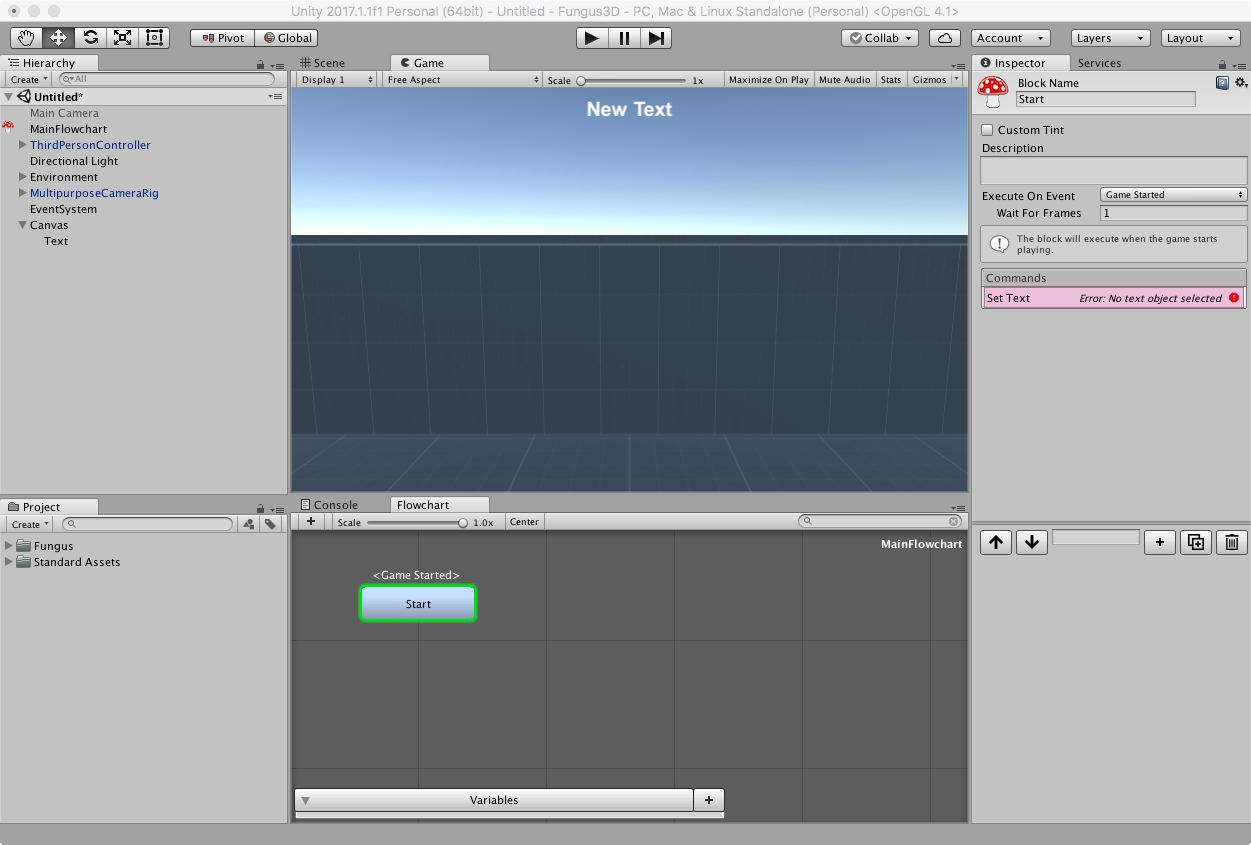 Selezioniamo il comando e trasciniamo il gameobejct Text dalla Hierarchy nel campo Target Text Object. Aggiungiamo infine nel campo Text un messaggio di benvenuto.
Create your playground on Tech.io
This playground was created on Tech.io, our hands-on, knowledge-sharing platform for developers.
Go to tech.io
Join the CodinGame community on Discord to chat about puzzle contributions, challenges, streams, blog articles - all that good stuff!
JOIN US ON DISCORD